How did we begin with braids and dreadlocks?
I've always dreamt of hairdresser's where you get higher hair volume and thicker hair. The idea finally came up and that's what we do till date.
Find out more what are braids, dreadlocks, synthetic dreadlocks, fake dreadlocks, nubian twists, corn rows, crochet braids, hair extensions and how you can maintain these hairstyles. Have a look in different sections and gallery where you can see pictures of our creations. We're based in Prague. Check our price list down in this page.
You've entered website, where you will get essential information about hairstyles that let you enjoy long and thick hair as long as you want. These hair styles have their stable position among classic and extravagant hairstyles. Their advantage in general is their relative maintenance-free compared to other hair styles, the feeling of voluminous and thick hair. You don't have to think every day what to do with your hair and you don't need to use your brush. Other advantage is that you can let your hair grow. You can choose how long you you'll wear the hairstyle – we create temporary ones lasting about a month to permanent ones lasting for years and it's up to you how long you want. Go to Czech version here.
We are dedicated to afro hairstyle inspired creations from year 2000 and thanks to you and new trends we have always something new to learn. Our hobby is to fulfill your dreams and ideas you share with us. All of you are taken individually and we try to materialize your wishes.
We usually use artificial fibre Kanekalon for extensions as well as human hair for dreadlocks. Other materials for extension are available on request. We provide wide colour range of kanekalon.
​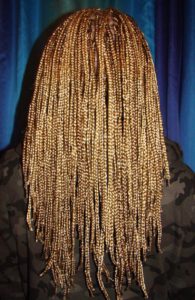 The braids or Nubian twists are technically made by adding bundle of artificial material to a lock of your hair which makes the braid or twist of desired thickness. We'll agree first how thick they will be and we'll discuss and find the way you want. When making braids, your hair is not tangled as the hair is in one direction.
We usually make on whole head around between one hundred to two hundred braids. Your hair volume increases while your hair is not damaged. We also offer variation of senegalese twists called faux locks or cubanese locks within crochet braids.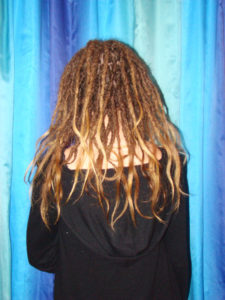 We make dreadlocks by systematically tangling the hair and making its surface smooth. There are several techniques of making them, there is no good or bad method, just the result matters – strong and lasting dreadlock on a good base.
We assure you that we do not use any waxes, glues, burning and other obsolete methods, we use only mechanical power. Their thickness is usually among 0.5 cm to 1.5 cm.
Usual count of dreadlocks on the head so that it looks really good starts from fifty. In order to tie your dreadlocks in a bun is necessary to have your hair long at least under shoulder. This is applicable for normal quality hair. If you have damaged hair, your dreads will be shorter. If your dreads just around the forehead are too short, we can extend so that you can tie them in a bun.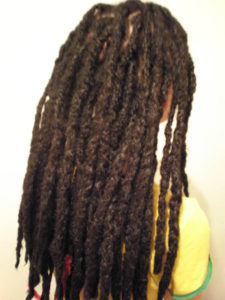 Do you want long dreads after one day? Yes, it is possible. Just choose to get them extended. In order to have your extended dreadlocks done, you need to have your hair long at least 8 – 10 cm on the whole head. Extended dreadlocks have the same qualities like dreads made of just your hair. The advantage of Kanekalon extensions is their lightness and the capability of drying up fast. We can also use human hair for extension. The best about in extended dreads is the fact that you don't have to wait for years to make them long.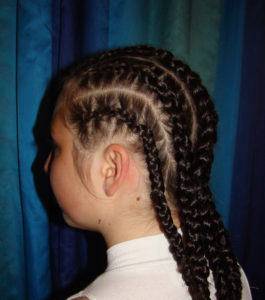 There are many types and patterns of corn rows. All of them are made by gradual adding of locks of hair that feed the thickening braid. Corn rows are either made of human hair or with the help of artificial material. Crochet braid hairstyles come from corn rows.
Last trend in afro hairstyles are crochet braids. Their base are corn rows on which are added readymade extensions of any type possible which makes this process shorter than regular braids, Senegalese twists, faux locks. Such a hairstyle duration is limited with the corn rows. It is possible to reuse the extensions.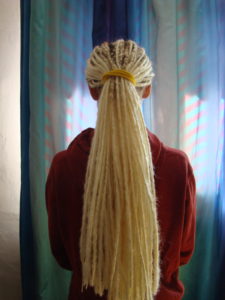 Synthetic dreadlocks are artificial, twisted and formed fiber that can be easily attached as well as removed without damage to your hair. Practically the same is applicable for fake dreads, they have structure looking like a real dreadlocks, but they are removable too. Among their types, choose smooth (not backcombed) and rough (backcombed) extesions. You can also choose between single-ended or double-ended dreadlocks. The latter type makes double count on your head.
New generation of synthetic dreadlocks
There is a method based on the priciple of Crochet braids in which the extensions are attached to a thin braid made of your hair. The attachment is nearly invisible.
Fake dreadlocks
Dreadlocks with dread-looking texture extensions are called the fake or artificial dreadlocks.
Price of braids, dreadlocks, fake, synthetic dreadlocks
Braids, Nubian/Senegalese twists
80 – 120 braids / nubian twists 3000 – 3500 CZK
130-150 braids / twists 3600 -3800 CZK
150+ braids – upon agreement
longer braids/twists- basic price and 1000 – 1500 CZK more
one braid / twist from 30-40 CZK.
knotless box braids from 4000 CZK 130-150 braids
Dreadlocks
50 – 80 dreadlocks 3000 – 5000 CZK.
dreadlock from 70 CZK.
Dread maintenance
from 25 CZK one piece.
Extended dredlocks
50 – 80 pieces 5500 – 8800 CZK.
Corn rows
Starting from 500 CZK.
Synthetic dreadlocks, fake dreadlocks
Starting from 3000 CZK whole head.
Attachment 30 CZK piece, removal from 15 CZK a piece.
Extensions only
One dread 25-35 cm from 70 CZK.
Synthetic dreadlocks, fake dreads starting from 50 CZK piece.
Contact us!
If any questions please contact us by the form below